Bagi para pemain bisnis PTR alias paid to reviews, tentu sudah familiar dengan berbagai aturan serba ruwet di SR alias SponsoredReviews. Meskipun aturannya serba ruwet tapi bagiku, SR mempunyai andil yang besar dalam memberikan sumbangan devisa pribadiku setiap bulan. Oleh karena itu menjaga akun SR-ku agar tidak terkena temporary suspend atau bahkan permanent suspend adalah prioritas utama.
Nah, dari berbagai aturan serba ruwet, yang paling krusial adalah aturan tidak diperbolehkannya menaruh link lain atau iklan lain didalam postingan. Kalau mengenai link lain selain link yang diminta oleh advertiser, tentu kita sudah paham dan mudah untuk mentaatinya, namun yang menjadi masalah adalah kita tidak diperbolehkan menaruh iklan lain didalam postingan. Nah, jikalau kita memasang iklan infolinks di blog kita, tentu kita akan kebingungan tentang bagaimana meng-akali ini, karena iklan infolinks akan muncul secara otomatis didalam postingan sesuai dengan keyword yang muncul.
Hal yang paling jamak dan umum kita lakukan adalah kita mematikan iklan infolinks kita di blog tersebut secara permanen, alias kita tidak memasang iklan infolinks di blog tersebut yang ujungnya adalah potensi penghasilan infolinks kita akan menghilang. Ya, meskipun hasil dari iklan infolinks, memang tidak seberapa tapi tentunya lumayanlah untuk sekedar membayar biaya hosting selama sebulan.
Untuk mengatasi hal ini, sebenarnya kita tidak harus mematikan iklan infolinks di blog kita, namun kita kita telah disediakan 2 (dua) cara yaitu:
1. Memasang Infolinks On-OFF Tag, berikut:
Note: Kode tag diatas dipasang di awal dan akhir postingan dengan HTML view.
2. Menginstall official infolinks plugins.
Kita bisa mendownload plugin-nya di: http://www.infolinks.com/resources-plugin.html?pluginID=1, setelah meng-activate plugin, kita bisa mulai masuk ke "Infolinks Settings" dan memasukkan kode account, kode website dan ID dari blog postingan kita di form.
Publisher ID :     (diisi dengan publisher ID kita)
Website ID :     (diisi dengan wsid dari blog kita)
Exclude from the following pages:  (diisi dengan nomor postingan kita, yang bisa dilihat dengan mengarahkan pointer mouse kita ke bagian edit di wp-admin-post)
Sebagai catatan, jika blog anda menggunakan plugin W3 Total Cache, dengan cara diatas terkadang masih belum bisa menghilangkan iklan infolinks di postingan yang kita maksud, dan untuk mengatasi hal ini kita hanya perlu menambahkan kode: Performance > Minify > HTML > Ignored comment stems. Enter "INFOLINKS_OFF" seperti yang dijelaskan di SheepTech.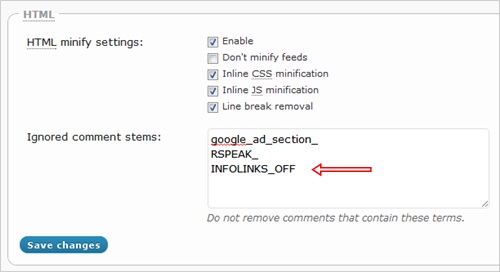 Note: image source: infolinks.com and sheeptech.com
Semoga postingan kali ini bisa berguna dalam membantu kita mengoptimalkan potensi penghasilan dari blog kita.